CERTIFICATES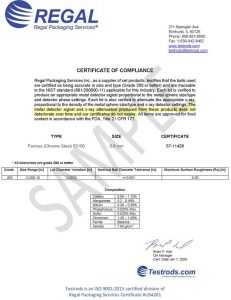 Certificates of Conformity for your certified metal detection test pieces CANNOT be downloaded without already having or creating an account. You can do so here on our website. NOTE: You may need to scroll down and click the "next page" link to find your certificates.
DOWNLOAD CERTIFICATES or CREATE AN ACCOUNT
If this is your first purchase from us online, you will need to login with your username and password to gain access to the above link for Certificate downloads. Once you login, if you still cannot access the Certificates, please call us at 866-691-8560. Or send an email to testrods@testrods.com with the subject line "COC Authorization"
If you have purchased test pieces via phone or email, you will need to CREATE AN ACCOUNT here on the website. Or, again, contact customer service (see above) for further details on obtaining COC's and/or accessing this password protected section.
You can also find a copy of our ISO Certificate here – we're committed to providing you with the highest quality certified metal detection test pieces and x-ray inspection verification devices.
You can also access a copy of our Testrods Catalog here.