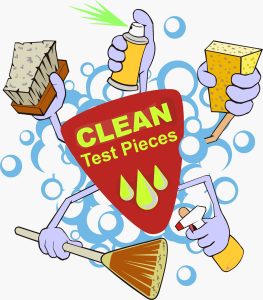 Cleaning test pieces is as simple as washing your dishes.
Here are our
CLEANING GUIDELINES FOR ACETAL TEST PIECES
Regal Packaging Services does not certify or assume responsibility for determining the standards for cleaning in your HACCP plan, however, techniques for cleaning acetal rods, cards and other test pieces should be based on standard food and pharmaceutical industry practice.
The acetal (plastic) material used to manufacture test pieces is resistant to chemicals.  Laminate or thermoform cards are more sensitive (see directions at the bottom), however, they can be cleaned with the same type cleaners.
Wash the test piece with ZEP foaming chlorinated cleaner. Ordinary dishwashing detergent (Dawn, Palmolive, Joy, Simple Green, Formula 49, etc.) is also useful and acceptable.
Rub with a soft, clean cloth as needed, but avoid abrasive pads of any kind.
Rinse the piece thoroughly with hot potable water
Sanitizing with an alcohol based cleaner is appropriate as needed.
Air dry piece or dry with known clean/sanitary towel.
Do not soak.
Excessive temperatures in a dishwasher or autoclave are not recommended.
Acetal is resistant to solvents and chemicals: Where occasional cleaning or accidental contact occurs with solvents, the excellent solvent resistance of acetal, compared to other plastics ensures that it will neither crack nor soften. Still, solvents, such as mineral spirits, should be avoided.
General Guidelines for Laminate and Thermoform Cards:
Use clean soft cloths or sponges for application of cleaners and again for washing and rinsing.
Follow up the application with warm water rinse.
Do not use abrasives or high alkaline cleaners.
Do not leave cleaners on test pieces for long periods, wash immediately.
Do not apply cleaners in direct sunlight or at elevated temperatures.
Do not use scrapers, squeegees or razors.
Do not clean with gasoline, mineral spirits or other solvents.
If you have an account on our website, you can download our general instructions in the certificate section.  If you still have questions, feel free to contact us at testrods@testrods.com or call 866-691-8560.