Metal Contaminant Types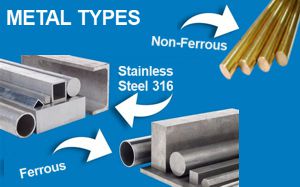 When it comes to metal detection, there are 3 types of metal contaminant types you should always use. Standards for the food industry are: Ferrous (Chrome Steel), Non-Ferrous (Brass) and Stainless Steel 316. These are the 3 categories of metal commonly used in food production and other manufacturing (pharmaceutical, textile, etc.). Each type of metal has different magnetic and conductive properties.
Ferrous Metal
Ferrous (Chrome Steel) material is the most conductive and magnetic. Because of this, it's the easiest metal to detect. You can expect to find smaller sizes of Ferrous metal than the other two. Ferrous metals emerged much later than Non-Ferrous. Production of these type metals probably started around 1,200 BC. The first known steel pieces were found in modern-day Turkey, dating back to 1,800 BC.
The biggest difference between ferrous and non-ferrous metal contaminant types is that ferrous contains iron and non-ferrous metals do not. Sounds simplistic, but each has specific characteristics that make them different enough to be separated. Ferrous metals have strength and durability. Non-ferrous metals are used because they are malleable, corrosion and rust resistance, and have more non-magnetic properties. Ferrous metals are sturdy and robust. They are a mainstay in the construction industry and are used to build all sorts of important structures:
Skyscrapers
Bridges
Shipping containers
Automobiles
Railroad Tracks
These types of metals fall under the umbrella of ferrous metals:
Cast steel
Carbon steel
Alloy steel
Cast iron
Wrought iron
Non-Ferrous Metal
Non-Ferrous metals are the "middle of the road" in terms of magnetic and conductive properties. They have a long history of use in civilization. Copper, for instance, was discovered in 5,000 BC. Bronze, an alloy of copper and tin, was likely first used even earlier. Non-ferrous metals are malleable and used in manufacturing industries where metal parts need to be molded into a particular shape.
Non-ferrous metals have no iron content.  They are not as susceptible to rust and corrosion as ferrous metals are, making them the best choice for structures that need to withstand heavy weather conditions:
Gutters
Liquid pipes
Roofing
Road signs
Non-ferrous metals are also useful for electronic and wiring applications because of their non-magnetic properties.
Stainless Steel 316 Metal
Stainless Steel 316
In 1907, Harry Brearley was in charge of the Brown-Firth Research Labratory in England. He was investigating ways to eliminate rust in gun barrels. By accident, he noticed a discarded steel sample that was not rusting. The result was a chrome alloy steel, much more rust resistant than seen before. Two months later, on August 20, 1912, stainless steel was cast for the first time.
Stainless Steel 316 is used for:
Heat exchangers
Pulp and Paper Equipment
Dyeing Equipment
Film Processing
Pipes
Solenoid Valves
Clamps
Materials for exterior use in coastal areas and marine environments, and
Food Grade Equipment – 316 is the industry standard.
So in terms of testing for these metals, you should generally expect the Ferrous to be your smallest sample. Non-Ferrous would be in the middle, and Stainless Steel 316 at the top. In other words, if you can achieve 1.5mm Ferrous, you might expect 2.0mm Non-Ferrous and 3.0 Stainless Steel 316.  Regal Packaging Services can provide all you need to make certain your systems are working accurately.