X-RAY BASICS
There are some really basic concepts that can help you understand how to use x-ray inspection systems on your production line.  X-rays are simply a high energy light source. Its wave length is higher than visual light but follows the same basic principles.  The diagram below shows some of the x-ray basics with the range of light wavelengths visible and invisible.

There are two types of X-ray Systems: Automatic and Manual. Automatic systems utilize linear array technology and Manual systems use image intensifying technology. The base resolution of an automatic system is determined by the diode size and the speed of the product. A Manual Systems resolution is infinite and only limited by video techniques. In both cases, the physics associated with X-Rays are the same, but a manual system with human viewers may achieve a better detection result.

SENSITIVITY
Sensitivity is determined by the systems-based resolution and product density. The denser the product, the more difficult it becomes to detect a foreign material. When dealing with dense foreign, objects, the atomic number associated with such contaminants must be greater than that of the product. For example: a cherry pit is hard but less dense than the meat of the cherry, therefore it is not detectable by X-Rays.
Here is a list of come common contaminants meant to be found when utilizing X-Ray systems:
CONTAMINANT – DENSITY g/cc
Polyethylene……………0.857 g/cm3
Polyvinyl………………….0.892 g/cm3
UHMW…………………….0.931 g/cm3
Rubber…………………….1.2 g/cm3
PETG………………………..1.38 g/cm³
Acetal (Delrin)………….1.4 g/cm3
PTFE………………………..2.2 g/cm3
Borosilicate……………..2.23 g/cm3
Soda-Lime Glass………2.5 g/cm3
Aluminum……………….2.7 g/cm3
Ceramic (AL203)……..3.7 g/cm3
Ceramic (ZRO2)……….5.6 g/cm3
Stainless Steel 316…..7.82 g/cm3
Ferrous……………………7.85 g/cm3
Non-Ferrous…………..8.48 g/cm3
A rule of thumb is that if a contaminant floats in water (1.0 g/cm3) then it will not be detected by X-Rays.  So in the above list, it's unlikely that you will be able to detect polyethylene, polyvinyl or UHMW.  Oddly enough, however, if you're looking for holes or voids in product, you would be able to find those based on the contrast between the product and the void.  This may be more useful in textile or commercial applications than in the food industry.  For instance, if you were inspecting circuit boards and were expecting to see all the electronic traces (circuit paths), you should be able to see where there is a break in the path.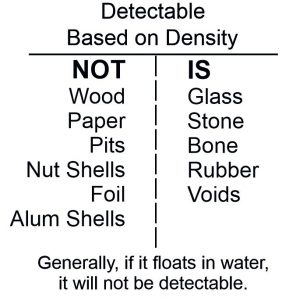 Keep in mind that while acetal (plastic) can be used for x-ray, we generally do not recommend it.  We've never had a customer indicate a problem using an acetal test piece for x-ray, but because it's density is greater than water (1.4 g/cm3) depending on your application and x-ray settings, acetal can leave a "shadow" and cause a false positive.  
If you have any other questions regarding X-Ray or would like to further explore the ins and outs of the technology, Regal is here to help.  Feel free to call us at (630) 942-8461.  You can also email regalpack@regalpack.com. Or, for X-Ray inspection laminate OR thermoform test pieces call 866-691-8560, email testrods@testrods.com.