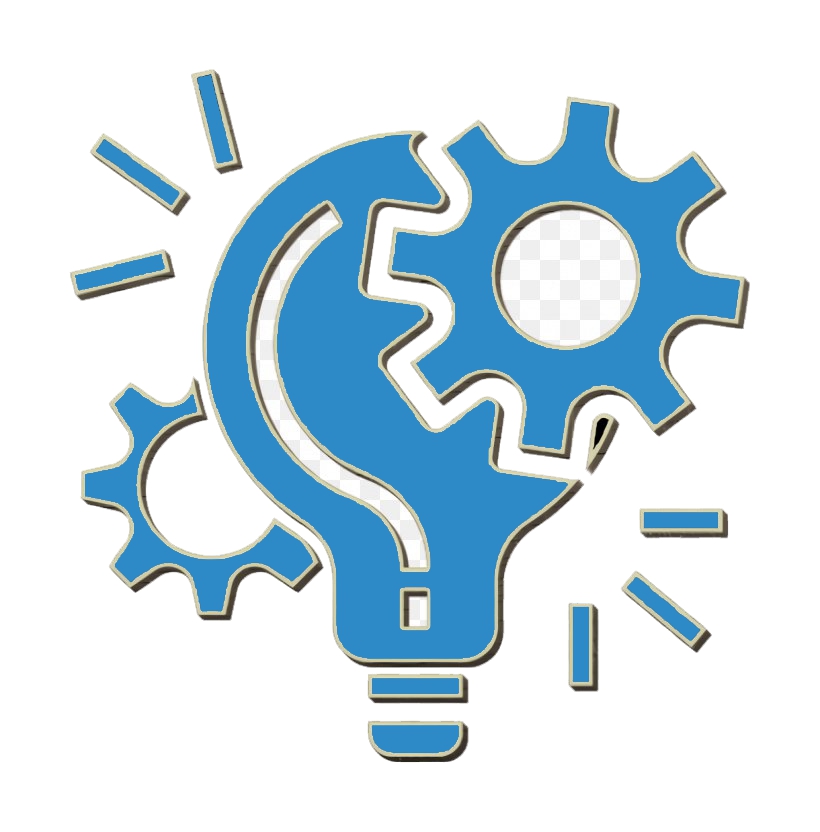 ISO Process for Custom Test Pieces
June 1, 2022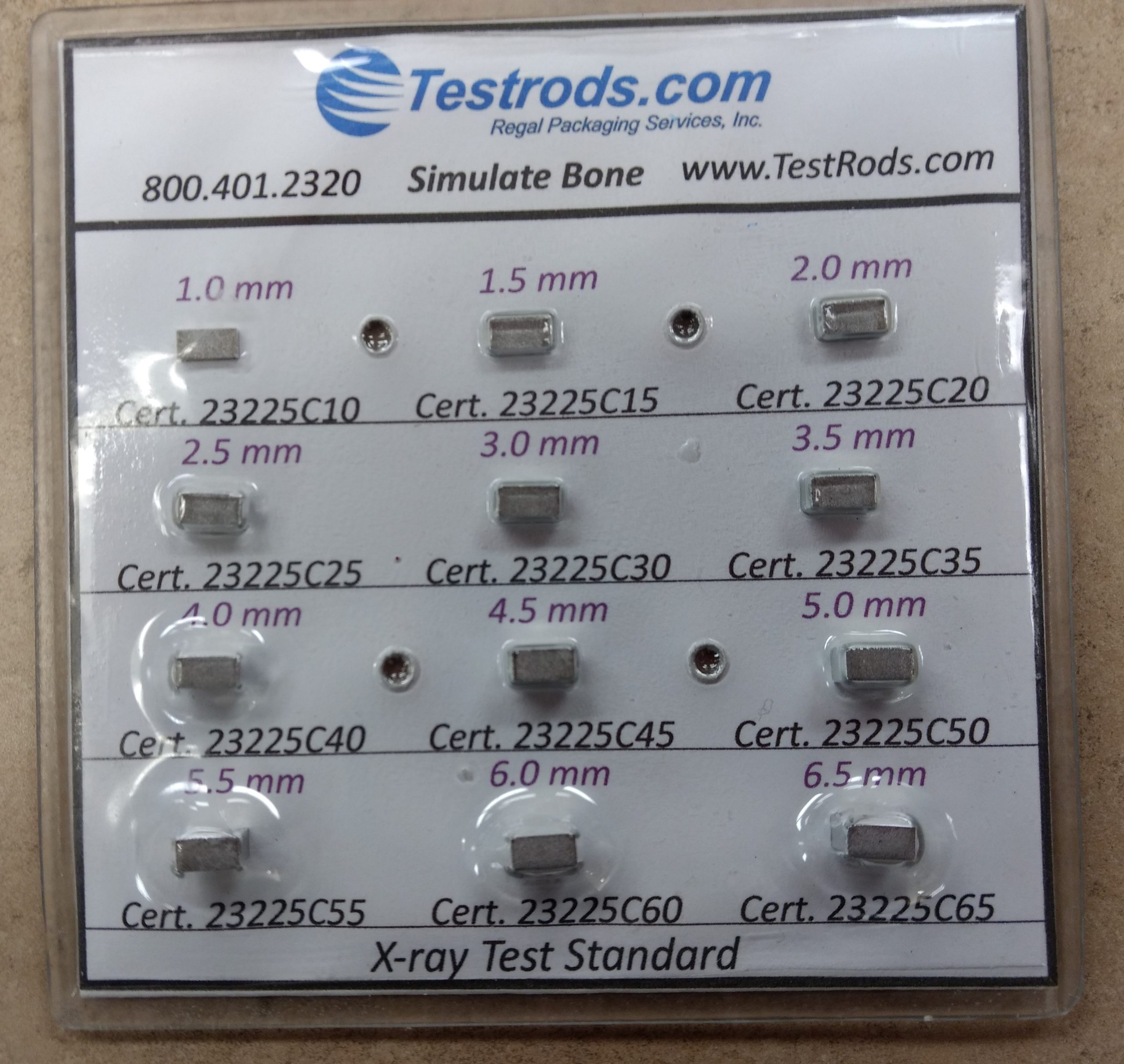 The Problem with Bone Detection in X-ray Inspection
July 21, 2022
Metal Detector Guide Notes
In providing you with a set of metal detector guide notes, we start with usage, which can be broken into three main categories.
Packaging – where higher sensitivity (the smallest piece of metal) is desired,
Bulk Processing – where gravity drop or pipeline metal detectors are used to protect equipment (e.g. blenders, mixers, cutters, choppers, etc.),
Industrial – where industries have lower sensitivity requirements (mining, aggregate, gravel, plastic, lumber, etc.).
All metals have either magnetically conductive or electrically conductive properties, or both. When they enter an electro-magnetic field, they create a detectable disturbance (or "signal"). Three coils in a static-shielded head loop around an aperture through which product passes. The head houses a transmitter coil that broadcasts a radio frequency signal and generates an electro-magnetic field. On either side of that transmitter coil, two equally spaced receiver coils detect whatever might be passing through. The signals from the receiving coils connect in opposition to each other.  Without any disturbance, the net signal across the coils amounts to zero – they are balanced.
Balance stability
"False triggering" can be caused by: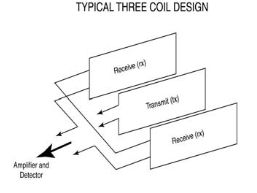 Very small movements
changes in temperature
vibration from nearby equipment
instability in the construction
Foil lids and trays require an alternative method: "Ferrous in Foil" detector. Non-ferrous and stainless steel contaminants cannot be detected with this type of detector.  Metal detectors measure electrical conductivity and magnetic permeability. Thus, iron-enriched products (e.g. cereals) create a large magnetic signal.  Products w/high moisture & salt content (e.g. bread, meat, cheese) are electrically conductive.  Signals from ferrous metal are larger than signals from the same size piece of nonferrous or stainless metal. Signals caused by vibration are always along the same lines as non-ferrous metals.  The detector can "rotate" the signals and map out or create a "detection envelope" for the product so that it can be ignored.  This is called "phasing out."
Metal Free Zone
Generally, the practical size of the leakage is 1½ times the (smaller) than the aperture dimension.  No metal should be allowed in this area. Large moving metal should be kept 2 times away.
Sensitivity
In theory, aperture size determines the sensitivity of a given metal detector.  The center of the aperture is the least sensitive point of the metal detector.
Ferrous:
Ferrous materials are any metal easily attracted to a magnet and usually the most common contaminant outside of food processing plants.
Non-ferrous:
Non-ferrous materials are highly conductive non-magnetic metals (e.g. copper, aluminum, brass, etc.). When inspecting conductive products, increasing the test sphere size by at least 50% is a good practice.
Stainless Steel 316 is the most difficult metals to detect and the industry standard.  This is commonly used metals in the food processing and pharmaceutical industries. When inspecting non-conductive products, a stainless steel test sphere typically needs to be 50% larger than a ferrous sphere.  When inspecting conductive products, a stainless steel test sphere needs to be 200% – 300% larger than a ferrous sphere to produce the same size signal.
The Four "Ps" of Metal Detection:
Preventing Contamination
Profitable Production
Protecting Customers
Promoting Brand Confidence

In the absence of any industry standards for detector testing, each company must establish their own test criteria within this broad range of Metal Detector Guide Notes.
Typical guidelines for sensitivity:

Environmental conditions may affect the performance of the detector:
Airborne electrical interference – static, radio, earth loops, etc.,
Vibration – moving metal,
Temperature fluctuation – ovens, freezing tunnels, etc.
Detector Performance
Manufacturers will generally supply recommendations for achieving the best performance from the metal detector. Always apply these recommendations;
Isolated rollers – to prevent ground loops,
High quality belt – metal free, interlocked finger joints, plastic modular belt,
Low vibration and static-free area,
Adequate metal free zone.
Reliable Reject Device
| | | | |
| --- | --- | --- | --- |
| Type | Suited for | Max Wt | Notes |
| Air blast | Light consumer packs (i.e. biscuits, chocolate bars, etc.) High throughput | 2 lbs. (1 kg.) | Unsuitable for loose product, boxes, curved surfaces, and some bagged product |
| Divert arm | Medium to light packs.  Medium throughput | 10 lbs. (5 kg.) | Product generally enters bin diagonally — must ensure it will fit. |
| Push arm | Medium packs. High throughput | 15 lbs. (7 kg.) | Unsuitable for loose or fragile product. |
| Stop on detect | Large bags or boxes, hand fed or bulk material.  Slow throughput. | 50 lbs. (25 kg.) | Requires an operator to remove contaminated product. |
| Retracting pulley or flop gate. | Small product in lines or irregular shape.  Medium throughput. | 5 lbs. (2 kg.) | Dimensions are for whole line or batch of products. |
Gravity Drop / Drop-Through Metal Detectors
Existing piping often determine the pipe and detector size. This formula is useful if you know the peak expected flow rate of the product and its density:
Area of aperture required (in2)    =   0.024 X Flow rate (#/hr) / (divide by) Bulk density (#/ft3)
Example: A product with a flow rate of 20,000 #/hr and a bulk density of 18 # /ft3 will require a calculated pipe area of .0.024 X 20,000 / 18 = 26.7 in2. (or a pipe with a diameter of about 5.8")
Metal detection can be tricky.  We hope this set of Metal Detector Guide Notes will assist you in determining how  best to protect your customers and your business against metal contaminant.   At Testrods.com, we can provide you with all the necessary test pieces to keep your systems fully tested and safe.