THE PROBLEM WITH BONE DETECTION
Bone detection in the food industry has always been the proverbial "hard nut to crack."  Companies needing to detect bone contaminant using x-ray inspection will find it difficult to achieve a standard set of results. In fact, those who have been working at it may feel it's more like an art than a true science. The trouble is that bone density can vary widely between animals and is affected by genetics, the age of the animal, the feed, exercise, how long the bone has been exposed to air, and even potential osteoporosis. This may require changing testing standards from lot to lot of animal, or between suppliers, or even between animals that have been raised in the same environment at the same time. If a database can be developed showing the variety of factors affecting bone density and the standards used to match those factors, this might help mitigate that kind of concern. A company will need to work with its suppliers to acquire that information and create such a catalogue.
SOLVING BONE DETECTION
Even more difficult is finding a supplier of test pieces specifically designed for bone detection. At Regal Packaging Services (here at Testrods.com) we've done just that! Working in tandem with several customers, we have designed a variety of test pieces that serve as bone simulate. The metal we're using is precision cut at 6 different sizes (below) and a variety of depths to simulate both the size and the density (affected by the thickness) of animal bone:
1) 6.5mm x 3.1mm
Thickness: of 1.0, 1.5, 2.0, 2.5, 3.0, 3.5, 4.0, 4.5, 5.0, 5.5, 6.0, 6.5 and 7.0mm
2) 5.0 x 3.0mm – same thicknesses
3) 5mm Cubes
4) 7mm Cubes
5) "Pucks" in diameters of at 1.0, 2.0, 3.0, 4.0, 5.0, 6.0 and 8.0mm – all at 1.5mm depth
6) Hollow metal (representing chicken bone) 3.2mm in diameter
Lengths of 1.0, 1.5, 2.0, 2.5, 3.0, 3.5, 4.0, 4.5, 5.0, 5.5, 6.0, 6.5 and 7.0mm
This is filled with a substance giving it the approximate density required.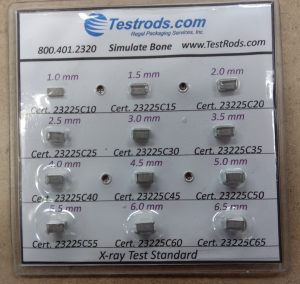 Our customers are using our product (primarily in thermoform card version) successfully in a variety of applications. In general, because the densities can vary, we recommend employing a "multi-card" like the one shown here. In an ideal scenario, the card can be placed under x-ray along with one or several of the expected bone contaminants. By utilizing this strategy, the size and thickness closest to the bone sample can be determined. Of course, this approach is best suited for applications that include an x-ray viewing screen, but it may prove possible in other situations as well. Once the standard is determined, a card with a single contaminant at that size can be used for regular testing.
This may need to be done for each arriving "lot" of animals, which means the standards may change. While one lot may require a 3.0mm thickness, the next one may necessitate a change to 2.0mm. Both vigilance and diligence will be key in maintaining the removal of bone contaminant.
At Testrods.com, we strive to be at the cutting edge of development for test pieces used in metal detection and x-ray inspection systems, and that includes bone detection. We spend time talking to our customers, then researching and determining the best way to meet the safety demands of the industry. We've developed hundreds of customized solutions for the industry. We provide eleven different contaminant types: Acetal (Delrin), Buna Rubber, Viton Rubber, PTFE, Soda-Lime Glass, Aluminum, Ceramic (AL203), Ceramic (ZRO2), Stainless Steel 316, Ferrous, Non-Ferrous. And we can package those contaminants in nearly any kind and shape of test piece you may need.
Email or call us 866-977-8663 for more information about bone detection.