Cases for Test Pieces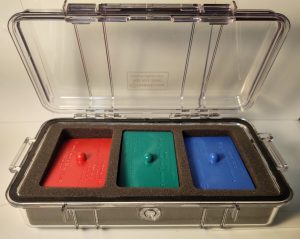 Ever considered purchasing cases for test pieces?  You need and easy place to store your metal detection or x-ray inspection test pieces, right? When it comes to food safety, everyone seems to know there are certain kinds of equipment that are needed: metal detectors, x-ray inspection systems, baggers, packaging equipment, checkweighers, labelers, test pieces, etc. No company knows that any better than we do at Regal Packaging Services.  But you may never have considered a case to safely hold your test pieces.
A case, whether standard or custom designed, can be an integral part of your food safety or HACCP plan. Because you're working with certified tools and test pieces, you need to protect them against loss or damage. So, it just makes good sense to store your test pieces in a safe, clean, and secure place.
What's the Big Deal?
You might think, "It wouldn't cost a great deal to replace our test pieces, so why should I worry about it?  I'll just call the guys at Testrods.com and get them shipped out same day for overnight delivery!" But once your test pieces go missing, whether it's the beginning of the day or the very end, it means downtime on the production line. And downtime is one of the most expensive circumstances a company can incur. It's like having product on hold. Simply put, it means product doesn't go out to the marketplace, and you're paying an inactive labor force. Keeping a spare set (for each line – or for the sizes/types you need) will give you time to order a new set, but that isn't always enough.
Redundancy
Your safety plans need to have redundancy built in to avoid every possible obstacle against sending out safe product to the public.  If you're running multiple lines with multiple variations of metal sizes or x-ray inspection cards this is even more important.  Why not keep everything together and protected against loss? Given that you need a way to demonstrate product safety and verify that your equipment is working to make that happen, test pieces are critical. A case protects not just a laminate card or a piece of plastic, but a certified investment in product safety.
Recently, we had a customer purchase ten cases, each designed to hold 1 set of 2" test pieces, one for each production line in the plant.  While this was the customer's first purchase with us, it's pretty clear they recognize the need for organization, consistent systems and the inherent value of a certified test piece.
How We Can Help
At Testrods.com offers 3 types of cases:
A nylon case designed to handle 5" or 6" length test pieces
4 different sizes of hard cases with a minimum of 3 variations each for use with a variety of test pieces.
Custom cases for an even wider variety of configurations for companies who need to store and protect multiple sets of test pieces.
We've come to recognize the value of a container to house one of the smallest, yet most valuable parts of a food safety or HACCP plan. As one customer said, "I have been working with Test Rods (Regal Pack) for about 5 years and they have always gone over and beyond the norm to help us get what we needed. They have been extremely helpful to in designing customized test materials that would fit our process." Our goal is to research and design new, innovative products that make it easier for food and pharmaceutical manufacturers to insure safe merchandise gets into the marketplace.
The Bottom Line
Henry Ford once said, "Quality means doing it right when no one is looking." That's especially true in the food and pharmaceutical industries. The customer may never see what we do, and they may never see the case that holds test pieces, but every piece of the food safety puzzle is essential, nonetheless. Take a look at what we have to offer, and feel free to contact us at testrods@testrods.com or 866-691-8560 if you have any questions.