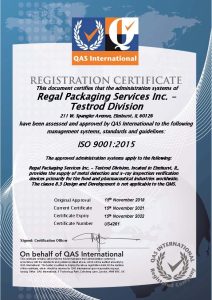 ISO Process for Custom Test Pieces
Custom test pieces for metal detection and x-ray inspection are a specialty in the Testrods Division of Regal Packaging Services.  In fact, more than 10% of our business is custom orders.  We're a unique supplier in the industry because we're capable of manufacturing nearly any kind of test piece you can imagine.  And we can do it in a very short time frame.  Recently, a customer contacted us with a particular need and said they had been waiting on test pieces from another supplier for over 3 months!  We explained that we can do the same thing in less than a week.  In fact, very often we only take 24-48 hours to manufacture and ship!
The process for designing custom test pieces is included in our ISO 9001:2015 documentation.  We follow a specific set of guidelines to make sure that we're meeting the customer's need and maintaining a high level of consistency and quality.  Here's how we do it:
The process begins with an inquiry from a customer, whether by phone or email.  We talk about what it is they're trying to accomplish and what are the best ways to achieve that.  We discuss things like: product type, application environment, method of testing, reject system and current testing practice.  We may ask for photos or drawings to help us understand accurately what the production line looks like.
Next, the sales team discusses the project with Production Manager to make certain this idea is possible and if some kind of modification regarding the customer discussion may be needed to get the best results.  All elements of the design are considered: the size (length, width, depth), the shape (bar, ball, cube or a specialized shape), where the contaminant seeds are placed, the material used and how long it might take to manufacture the test piece.  There may be some facets of the process we outsource to a local vendor who understands the food industry and what we're doing.
If needed, we talk through the project with that local vendor to insure they can undertake what we need.  So far, there isn't anything they haven't been able to do!
Next, if needed, we draw a mock-up or sketch of what we envision and send that off to the customer for approval.  Sometimes, it may take 2 or 3 drawings along with back-and-forth communication to agree on what works best.  We never purchase supplies until we're certain we agree on the final design and we have a method of payment (i.e. PO or credit card).
Once we have approval, we move forward with production.  We work with quality suppliers and we know pretty well how long it will require to get the necessary supplies that might not already be inhouse.  And we sure to communicate any delays to the customer.
When the project is complete, we take photos, not only for our own records, but also because we know if we're successful our customers may come back for more of the same or similar test pieces.  Having something on file, by way of designs or finished product helps us maintain consistency in our quality and easy re-ordering for our customers.
We ship it off to the customer!