Regal Packaging Services is a family-owned company that specializes in contamination detection and quality inspection.
What Regal Packaging Does
At Regal Packaging Services, our primary objective is food safety and quality assurance. And we approach that from five different angles:
Fortress Technology metal detector sales

, what we believe to be the best in the world. And you can put that claim to the test. Our sales area covers Illinois, Wisconsin, Indiana, and Iowa. With Fortress, you get: Simple Operation, Exceptional Performance, Outstanding Reliability and a Never Obsolete Commitment.  Visit Regalpack.com, call

630-942-8461

or email us @

regalpack@regalpack.com

Service on Fortress Technology metal detectors. We don't simply sell a machine and then walk away. We can provide service at all levels, assist with startup, and provide training.  And while others may take weeks to show up, we'll be there when you need us.
Sales and service of Fortress checkweighers, a great companion product to Fortress metal detectors.
Metal Detector and X-ray Inspection system audits, whether on an annual, semi-annual, or quarterly basis. We can get you ready for that visit from the auditor. We audit all makes and models of metal detectors and x-ray systems. It's another reason you can trust us to help meet the needs of the industry.  Visit

DetectorAudits.com

 call

800-976-2390

or email inquiries@detectoraudits.com
Worldwide sales of certified test pieces (purchased

here

or call 866-691-8560 or email testrods@testrods.com) will ensure that your systems are in working order. You will meet the demands of your HACCP plan, and test pieces come with free certificates that never expire. The Regal Packaging Team
The Regal Packaging Team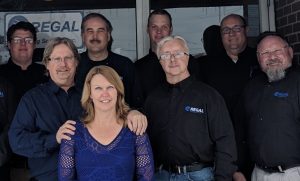 We are a small business, but we have nearly a century of combined experience in the industry, and we stand on a reputation of honest sales and superior customer service. We can meet the challenges of any product application and help secure the safety of the end customer in the marketplace.
Bob Loerop built Regal Packaging from the ground up, on a foundation of integrity and a strong knowledge base of the food industry. He started out in the x-ray field, and then became a sales and service representative in the metal detection field without giving up an active presence working with x-ray inspection systems. And he knows what makes an operation run smoothly and effectively. He and the team know metal detectors and x-ray systems inside out and understand the process of contaminant detection at a fundamental level.
We've been in the industry long enough to know what works and what doesn't. And that includes variables such as product effect, good manufacturing practices, metal types, and sensitivity, and we've seen every type of metal detector you can imagine from vertex to big bag conveyor units. We're familiar with the standards set by BRC, SQF and GFSI and FSMA. Armed with knowledge, experience, and expertise, we have a brand that can serve all your needs.
Regal Packaging "Bread and Butter"
We take special pride in the fact that what we do contributes toward ensuring the safety and quality of food products. Though our equipment and test pieces are used in a wide array of industries including textiles and pharmaceuticals, the food and beverages industry is the core of our business. No matter how careful you are, it is a challenge to prevent metal, glass, ceramic or other contaminations of food products.
As a company, we don't believe in a one-size-fits-all approach. We understand that our customers come from different industries, produce different products (dry, wet and frozen) and have different needs. This is exactly why we offer a full complement of contaminant detection systems and services.  Give us a call and see what puts the Regal Packaging team ahead of the competition.