ABOUT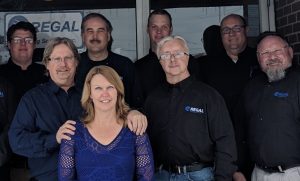 Regal Packaging Services is a family owned company that specializes in contamination detection and quality inspection. We design, manufacture, and supply our own line of metal detection and x-ray inspection verification devices. Our test devices come in a variety of shapes and sizes.  And they are used in a wide range of industries – from food and beverages to textiles, pharmaceuticals and more.
What We Do
At Regal, our primary objective is food safety and quality assurance.  Our test pieces only simplify the process of verifying the operation of your metal detectors and x-ray systems.  And they also help ensure that your product is safe for the marketplace.  We offer four 17 different metal contaminant types: Aluminum, Bone Simulate, Borosilicate Glass, Buna Rubber, Ceramic AL203, Ceramic ZrO2, Delrin (Acetal), EPDM Rubber, Ferrous (Chrome Steel), Fused (Synthetic) Quartz, Non-Ferrous (Brass), Nylon, Polypropylene, PTFE (Teflon), PVC, Soda-Lime Glass, Stainless Steel 316, Viton Rubber.  These are all available in a wide range of sizes.  Our test pieces are available in an assortment of shapes and dimensions.
Testrods.com is just one facet of Regal Packaging Services.  In fact, we are a virtual one-stop shop for all of your contaminant testing needs.  We provide the following services:
Sales and service of Fortress Technology metal detectors, the best in the world.
Sales and service of Fortress checkweighers, a great companion product to Fortress.
Metal Detector and X-ray Inspection system audits, whether annual, semi-annual or quarterly basis. We can get you ready for that visit from the auditor. We audit all makes and models of metal detectors and x-ray systems. Visit DetectorAudits.com.
Certified test pieces (purchased here or call

866-691-8560

 or email testrods@testrods.com) will ensure that your systems are in working order.  You will meet the demands of your HACCP plan, and they come with free certificates and never expire.
How It All Started
The story of Regal Packaging Services goes back to 1998. Our founder, Bob Loerop, was working as a sales and service representative for Fortress Technology. To boost the sales of metal detectors, Bob came up with what seemed like a novel marketing idea. He started making his own test pieces to check the operation of the metal detectors. The pieces were made right in his home and imprinted the certificate numbers with a hammer and mallet.  He offered them free of charge for customers who showed interest in the detectors.
To his surprise, he started receiving phone calls from people who were interested in ordering additional test pieces.  Then there were calls from new customers who had only just seen them. Sensing the demand, he started making more product. Along with his wife, who took an active interest in the business, he started selling the devices right out of his house.  As the demand kept increasing, he upgraded the manufacturing process.  Hand stamping was replaced with a better method of imprinting to make the devices more consistent and readily identifiable.
Soon, he moved that part of the business out of his house and set up a manufacturing facility. In addition, he has continually upgraded the manufacturing process at every point in the system. The rest, as they say, is history. Today, Regal Packaging Services is one of the most recognizable names in the industry. In 8.5 years (2013-mid 2021) we've sold over nearly 150,000 test pieces.  in the process, we've made a name for ourselves as the manufacturer of the highest quality test devices in the country. Ours is truly a story of a small business making it big through perseverance, innovation, and a quest for perfection.
What Separates Us From the Rest?
Bob is a man who built a company from the ground up with integrity and a strong knowledge-base of the food industry. He started out in the x-ray field, and as a sales and service representative in the metal detection field.  What makes an operation run smoothly and effectively is his forte.  He and the team know test devices, metal detectors and x-ray systems inside out and understand the process of contaminant detection at a fundamental level. We've been in the industry long enough to know what works and what doesn't.  And that includes variables like: product effect, good practices, metal types, sensitivity and we've seen every type of metal detector you can imagine from vertex to big bag conveyor units.  We're familiar with the standards set by BRC, SQF and GFSI and FSMA.
Armed with knowledge, experience, and expertise, we create test pieces that can check your systems so they meet the standards you require.  Our devices are of the highest quality and can stand the test of time.
Our "Bread and Butter"
We take special pride in the fact that our devices contribute toward ensuring the safety and quality of food products. Though our devices are used in a wide array of industries including textiles and pharmaceuticals, the food and beverages industry is the core of our business.
No matter how careful you are, it is a challenge to prevent metal, glass or ceramic contaminations of food products. Contaminants can enter food products at any stage of processing, as every piece of equipment is made of components subject to wear and damage. Therefore, it becomes extremely important to check food products for contaminants at every stage of the process. This is where our testing devices come into the picture.
As a company, we do not believe in a one-size-fits-all approach. We understand that our customers come from different industries, produce different products (dry, wet and frozen) and have different needs. This is why we offer an exceptionally wide range of test pieces in all sizes and shapes.
So if you want to know about Testrods, we have test pucks, cards, balls, whips, cylinders, rods and much more. All of these products are available in the contaminant types listed above.  Also, we make customized testing devices for our customers, based on their specific needs. For one customer, the solution turned out to be a 24-foot polypropylene tube made into a "rope" designed for a gravity feed system where the testing was done overhead with an operator on the floor.  So we work not only to meet your expectations but to exceed them with the highest standard workmanship. This is one of the main reasons why we have managed to reach the place we are at right now.  We have a great relationship with our customers and can supply you with all they need.