What's Up with So Many Test Pieces?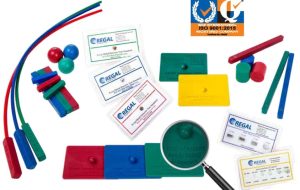 You may wonder why Testrods.com offers so many types, sizes and shapes of test pieces.  The answer is pretty simple, really.  It's because there are so many different kinds of processes used to manufacture and/or package foods and pharmaceutical products.  In some plants you'll find metal detectors, while others use x-ray inspection systems and a still others use both.  Some applications are conveyor fed while others are gravity fed, inline/pipeline, VFFS and big bag systems.  And there a wide variety of reject systems as well.
Here at Regal Packaging Services, we manufacture a full line of test pieces to meet every need.  And if you don't see it on our standard product list, you can be sure we can meet the challenge of any customized application.  Whether you need a cone shaped test piece, a 5 ft. long rod or a 30 seed multi-card, we can make it.
Here's a list of our standard offerings:

And we offer 10 different contaminant in a wide variety of sizes:
Rubber – 1.2 g/cm3
Acetal/Delrin – 1.4 g/cm3
PTFE/Teflon – 2.2 g/cm3
Soda-Lime Glass – 2.5 g/cm3
Aluminum – 2.7 g/cm3
Ceramic AL203- 3.7 g/cm3
Ceramic ZrO2 – 5.6 g/cm3
  Stainless Steel 316 – 7.82 g/cm3
  Ferrous – 7.85 g/cm3
  Non-Ferrous – 8.48 g/cm3
But there isn't a custom test piece inquiry and challenge we've received yet that we haven't been able to fulfill.  We've been in business for over 2 decades, and we bring nearly a century of experience to the table.  Our sales personnel and service techs understand that what you need is a strong support system with a knowledge-base that goes way beyond sending you our product catalog.  We're not like a lot of suppliers who only sell test pieces in vast array of other metal detectable items.  They sell it, but don't manufacture it and can't support it.  When you call our Testrods division, you can be sure you're talking with someone who understands what's going on in the food industry.  And if we don't have an immediate answer, we can get it for you. We can help you determine what material contaminants and what sizes you can expect to use in your application.  And we can supply you with the necessary tools to setup and test your system so you can achieve maximum safety levels in your product.  If you're successful, we're successful.  Nearly 3500 customers in 23 countries are using our products with complete confidence that we're keeping their metal detection and x-ray inspection systems working at peak performance and putting a safe product in the marketplace.